102
nd

Infantry Division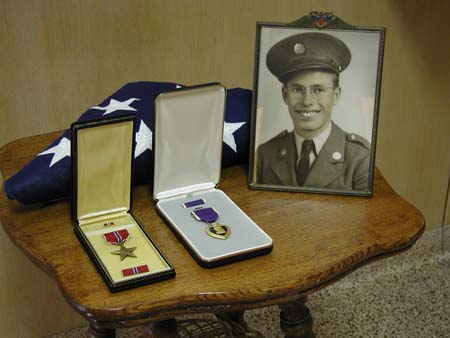 My dad served as a replacement in the 102nd Infantry, 405th Regiment, Company B beginning in late Jan. 1945. He may have also done some time with the 84th Infantry Division during the Winter of 1944. He was seriously wounded on the morning of February 23 shortly after crossing the Roer River in Operation Grenade.
After he was wounded he was evacuated to a field hospital where he was operated on. Once stable he was transported to Liege and then onto England. He almost died on the train ride from Liege from a serious infection. After returning to the states he was sent to Baxter Army hospital in Spokane Washington where he had more surgeries and rehabilitation. After being discharged from the Army he worked for Garden Valley Telephone in Erskine Minnesota.
Below are some letters he exchanged with Carl Main who was also in his platoon. It tells parts of his story, especially what he was able to remember from the day he was shot. I have also posted some chapters from the 102nd Infantry Division History book that chronicles the battles of the 102nd.
Letters
102nd Infantry Division History Book
Maps
102nd Awards and Statistics
---
Thanks to Wilhelm Jensen from Geilenkirchen Lindern Germany for the following pages and photos. He took photos of the area were my dad was wounded on Feb. 23, 1945 as it looks today. The pictures are between Rurdorf and Tetz. Click on the following link and it will take you to a page that explains how to view the pictures.
---
Videos of the Ninth Army. Some very good footage of units of the Ninth Army.
Some very good footage in this newsreel of the Roer Crossing near Linnich.
The 102nd was at the Tangermünde Bridge and help process over 118,000 Germans prisoners fleeing the Russians. The Division history book gives a good account of what it calls "The Debacle".
Some good footage of the Roer crossing at the 16 minute mark of this documentary. I believe my dad may have spent some time attached to the 84th in Nov./Dec. timeframe. (Geilenkirchen)
---
The two following stories were contributed by Jim Harris, of the 407th, Company K.
---
I have a whole stack of Ozark Notes that I am in the process of scanning. A work in progress.
The final issue
---
This page is dedicated to Lt. James Clyde Slavens who was KIA while constructing the bridge at Linnich. His sister Rosleen Put researched his life and put together a story of his life. Through this story she was able to meet those who were there the day he was killed.
---
Lt Hawke was KIA on Nov. 29, 1944 near Welz Germany. He was a member of the 771st Tank Battalion attached to the 102nd Infantry Division.The Ritzen family have adopted his grave at the American Cemetery at Margraten, the Netherlands. They have not been able to find much information on him and would like a picture or family member so they could learn more about the soldier who rests in this spot in Margraten Cemetery.
---
My wife's Uncle Bill tells his war story of his time on Roi and Nmur Islands of Kwajalein Atoll in the Marshalls.
---
Below is a link to a lot of first hand account stories from members of the 102nd Infantry Division. Lots of good reading on this site.
I hope you enjoy the web site. Feedback is always welcome. I can be contacted via email at bill@hobbydog.net