Woodland Caribou Provincial Park 2015 Solo Trip
Soon after my trip to WCPP in 2013 I started planning a 2014 trip. Due to some of life's twists and turns it became apparent early in 2014 that a trip back was not going to be possible. In 2015 I was determined to make up for it with a longer trip. I really wanted to do a fly-in but cost was an initial concern. However, I had some time to raise the funds and decided I would not let that stop me. I then started thinking about a route. In 2012 I tried to make it into WCPP via the Bird River and enter WCPP on Eagle Lake. The portages between Snowshoe Lake and Chase Lake were a bit more than I anticipated or they were not there. My preparation was not great but mostly I lacked confidence in my abilities. After looking at the maps an idea started to form. I could fly into Artery Lake from Lac Du Bonnet and paddle back out the Bird River. It would allow me to see all three regions of WCPP, top to bottom, paddle out the Bird River and get through the portages that stopped me in 2012. I would start in Atikaki, paddle through Woodland Caribou and end it in Nopiming. Three provincial Parks in one trip. When I started looking at a specific route it looked like I could do this in 12-16 days. I would have to get 3 weeks off of work but didn't expect that to be a problem. Serious planning started to take shape in the fall of 2014.
Where is Woodland Caribou Provincial Park? Artery Lake is 160 miles NE of Winnipeg and an 85 mile flight from Lac du Bonnet. It will take me 13 days to paddle 165 miles from Artery Lake back to Tulabi Falls on the Bird River. From there I arranged for Jackson Outfitters to pick me up and shuttle me back to Lac du Bonnet.
This is a link to my planned route but I did deviate slightly from it between Wrist and Aegean Lake. I decided to save a day of portaging to get to the same place.
If you have Google Earth (KML) or can load GPX files you should be able to open them here. There are several files that show my GPS logs for the trip.
---
The Drive up
June 14, 2015
I spent Saturday making the 8 hour drive up to my cabin in NW Minnesota. I had a really good steak supper and a relaxing evening. Sunday I was up early, excited to get going. The plan for today was to make the four hour drive to Lac du Bonnet where I would check in with Adventure Air and drop off the canoe. My flight was to be 8:00 AM the next day. Crossing the border at the Lancaster/Tolstoi crossing was easy but the mosquitoes were horrible. At least a dozen made it through the window during the short stop. Fortunately that would be the most mosquitoes I would see until I got back to my cabin. Once I got to Lac du Bonnet I stopped in at Adventure Air/Jackson Outfitters to check in. At the office they said there may be some changes in schedule but would need to talk to Shaun (the owner) when he got a few minutes to talk. As you can imagine, getting people to and from over a dozen outpost in the summer has to be a hectic job. I had entertained paddling all the way back to Lac du Bonnet but Jacksons had a shuttle service that would save me a couple days of paddling. I would end my trip at Tulabi Falls so decided to go check that out and kill a little time. I returned a couple hours later and got a chance to talk to Shaun. He had two options for me, fly out at 6:30 or 10:30. I jumped on the early bird flight. He asked me about my route. He was thinking I was paddling the Bloodvein west to Lake Winnipeg. When I told him I was going east and paddling back to Bird Lake he raised an eyebrow and said "that is an interesting route". He asked if I had a map so I got that out and we went over the route. I think his comment was something like…."hmm, that is not the way I would go but sounds interesting. Good luck." He then showed me some good spots to fish along the stretches of the Bloodvein. We got the canoe tied onto the Beaver so we were all set for an early flight in the morning. I checked in at the Glen Howard hotel and had a big burger, fries and a beer. The anticipation is high.
---
Day 1
Monday, June 15, 2015
Getting started
12.5 miles 1 portage 175 meters
I am up at 5AM and quickly get my gear in the truck. I have a muffin and some juice....not really hungry but it will be a while before I eat again. It had rained overnight and there were some low hanging clouds. There was lots of activity when I got to the dock. A busy Monday in the outfitter business. It was not long and my gear was loaded and Randy (the pilot) let me know he was ready to go. For those that have never flown on a Beaver it is an incredible flying machine. The sound of the engines, the vibration, the power….it is a fun ride. As we taxied out Randy was asking about the trip. Like everyone, they question the solo thing but he said he spent winters in the Caribbean and enjoyed soloing in his sailboat. He understood. It was about a 50 minute flight over some really cool looking country. It was an interesting perspective as the next couple weeks the perspective would be a couple feet above the water. We docked at Jackson's outpost on Artery Lake. There was a group of guys from Winnipeg waiting on the Otter to pick them up in a few hours. One of the guys helped me with my gear and I had a short conversation with him. He was wondering where I was going. His response was something like…"really, you can do that?" It was not long and I was on my way.
A cool front had just passed and it was clearing but a decent NW breeze. I misplayed that a little and took the south side of the lake as I headed east on Artery. Probably due to the excitement and just wanting to get going. Not a big deal though, I was soon at a small falls that has a short rail sled for outpost boats to hop over. I portaged the old fashioned way. At the top of the falls I dropped a line for the first time. Within a few minutes I had caught a couple of small walleyes. I kept moving though. The plan was to make it to Mary's lake and fish a little in the evening. Next up were the pictographs on Artery Lake. As I paddled on Artery I noticed the birch trees were just starting to leaf out. I thought that was strange but soon realized there was an army worm invasion and everything was defoliated. For the next several days I would be dealing with them. They were everywhere. The pictos were easy to find, you can't miss the mural. It was as impressive as described. I spend some time there trying soak it in and contemplate their meaning and significance. I fish a little as I move upstream. I catch a few smallmouth along the shoreline. The sky has cleared out and it is a beautiful day with temps in the mid 60s. I am soon at the north falls out of Mary's Lake. I fish a little at the bottom of the falls and quickly catch a few walleyes. Then I decided to try the falls about a half mile south. Shaun had said there is an eddy on the far side that can be full of walleyes. This falls has a larger drop and the current is stronger. I was able to find the spot he described and tried my luck. Nada….nothing. I tried several other spots but caught nothing. I could not see a portage over the falls either so I decide to head back to the other falls, catch a few fish and have a shore lunch. After a good walleye dinner I crossed the portage into Marry's Lake and was on my way. I found a campsite on an island on Mary's Lake. Once I got camp set up I took a short snooze. With sunrise at 5 AM and sunset at 9:40 PM, the days were long and I liked being up for the sunrise and sunset. A short afternoon snooze became a habit on this trip. It was a nice campsite and good fishing from shore. I fished around the island and small walleyes were easy to catch, nothing of size though. It had been a long day I was ready for the tent by sunset. The final thoughts for the day were….I am here, I am really doing this! What a great start to the trip.
Jackson's Outpost on Artery Lake
Falls On Artery Lake
The Pictographs on Artery Lake
Taking break on the Bloodvein
South Falls out of Mary's Lake
A fish fry at the north falls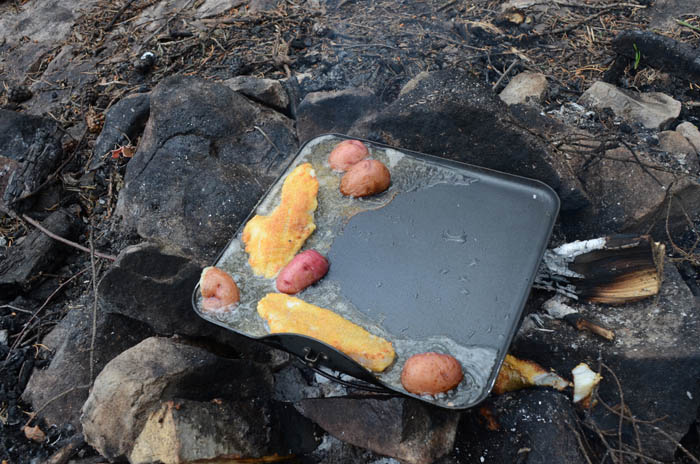 Day 1 Route
---
Day 2
Good Fishing
15.5 miles No portages
I am up at 5 AM with the sunrise. A beautiful morning. I get things packed up, still working on getting things organized. No portages for the first few days so I brought some extra food with, breakfast is a Raspberry Cream Muffin and some orange juice. I am on my way early. As Mary's Lake narrows back into the Bloodvein it is very scenic and it is a perfect morning for paddling. This stretch of the Bloodvein soon widens out and is a bit more swampy along the edges. I plan to paddle 8-10 miles and find a campsite on Barclay. I check out a couple of campsites and settle on an Island site near Musclow River. There are actually two to choose from on the south end of the island. Once camp is set up I fish a little from shore. I am able to catch lunch in just a few minutes. After lunch, a nice long snooze.
I wanted to explore the Musclow River and check out the falls out of Musclow. But first I wanted to try my luck for some big northerns. I had brought big Ugly Stick and a couple of big spoons. I rigged up a "five of diamonds" and gave it a cast. On the first cast I had a big northern take it right at the canoe…really slammed it. But I had the drag cranked tight and before I could even react she broke the line just as quickly as she hit the spoon. 20# test. Dang! But hey, if I got one on the first cast there has to be more…right? This time I took a bit more time rigging and checking the drag. 45 minutes of casting and nothing. I head up the Musclow. It is a 6 mile round trip and really debate if I want to do that but keep paddling. It was worth my while. I caught walleyes on almost every cast at the bottom of the falls until there were no more…maybe 20 and all nice sized. Also a nice northern too. Then on the way back a bull moose in the evening light. A little further down a cow moose. I take a few cast here and there as I paddle back to camp in the evening sun. Life is good.
Out of Mary's Lake and into the Bloodvein
Army worms everywhere
Fish Fry on Barclay Lake
Falls out of Musclow
Bull Moose on the Musclow River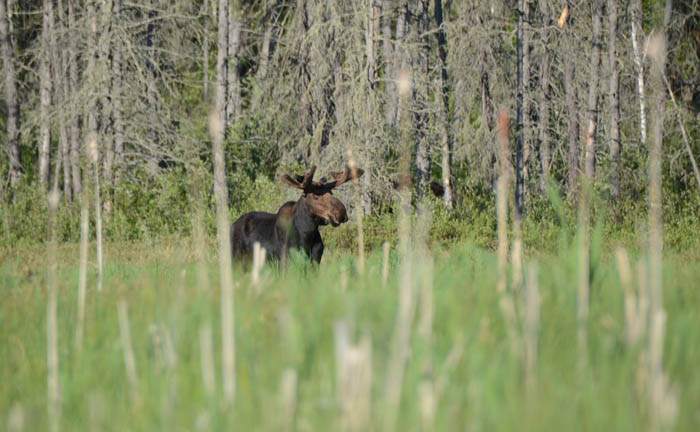 Keeping an eye on me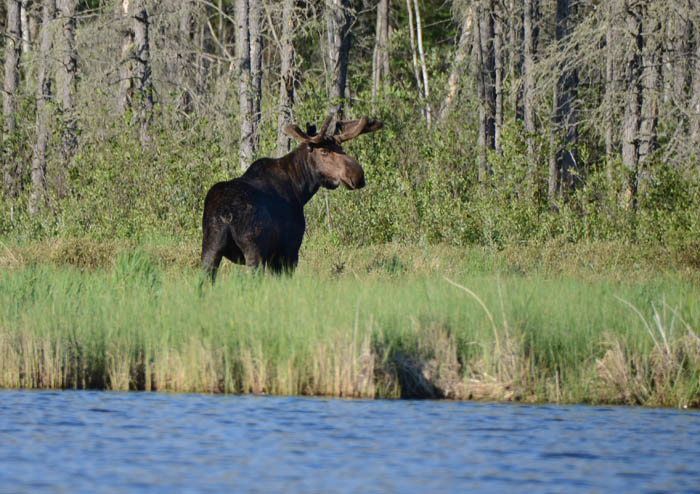 Day 2 camp on Barclay Lake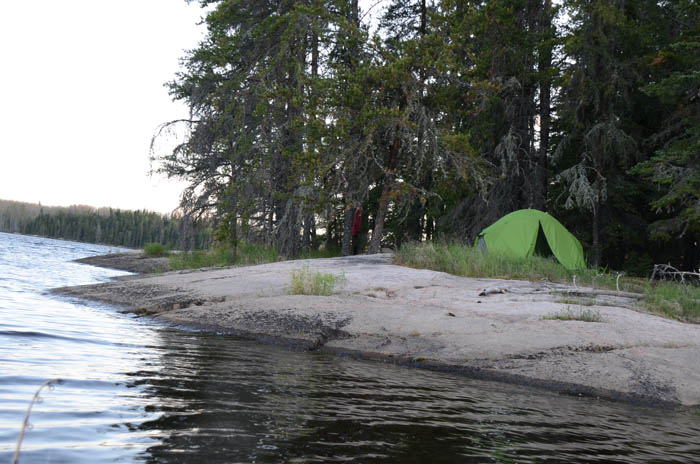 Day 2 Route
---
Day 3
A long day
16.5 miles, no portages
I am awakened early by the sound of waves lapping at the shore. It was starting to get light and I am wide awake so decide to get up and get going before the wind gets worse. I am at the east end of Barclay and don't want to get wind bound. Once I am packed up and ready to go I turn on my gps and check the time. It is only 4:45. It must start getting light at about 3:30. Other than a strong southwest breeze it is a nice morning. I work my way through Simeon Lake to the falls out of Larus. I fish a little on the way catching some walleyes I check out several camp sites along the way but none check out or I am looking in the wrong place. I'm thinking maybe I can camp at the falls but as I approach the falls a bear walks out right where I am thinking about camping. I stop and fish for a while but no luck, not even a bite. It is getting into the afternoon and I need to find a campsite. I check out the next one on the map but it wasn't much more than a small rock with a fire ring. I could backtrack several miles to where I had lunch but decide to keep looking. Finally I find a spot on an island point, not listed on the map but there is room for my tent so I get set up as it looks like rain. Just as I am get set up the rain starts. It lasts about an hour and then I have supper and off to an early sleep. It has been a long day.
The Falls out Larus Lake
Day 3 camp on Simeon Lake
Day 3 Route
---
Day 4
The missed portage
13.5 miles, 5 portages, 300 meters


I sleep in today. The sky is clearing up and it is cool with temps starting out in the upper 40s and the sun feels good. A nice cool front. I dry some stuff out in the breeze. I am in no hurry to get going today as it should be a short day. I eat my last Raspberry cream muffin. Once dried out I am on my way. I fish a little along the way without much luck. I stopped for lunch at a campsite in the last bay before the portage to South Simeon. I had the wind in my favor so I drifted across the bay while casting a big spoon. After a while I switch back to my walleye rig and after a couple casts have one on…turns out to be a nice northern. By the time I release it I am at the south end of Simeon and close to the portage.... not paying attention to the map or the GPS. I will make a long story short….I followed Simeon Creek and made 3 portages rather than crossing over the established one. I think there used to be a route going this way as there was a semblance of a path and a few sawn logs from long ago. You can see in my map below I spent a little time wandering around trying to find my way. I guess I got to see some of WCPP few others will see. :-)
Portaging over the falls out of South Simeon I slipped and landed on my hand. It made a nice gnash that bled a little but also bruised it. I would feel the bruise for a few days. It reminded me of no matter how careful, slips can happen fast even when you are being careful. It may be the biggest danger you face on a solo. After South Simeon you enter into Simeon Creek. This is a beautiful valley of jack pines. It is a narrow stream and parts of it had large boulders that took some work to get around. The map says seasonably shallow but I think the water level was ok. If you go this route make sure to stop and enjoy the beauty around you. Soon I am on Dunstan Lake and find a nice flat rock island site campsite. I enjoy a good swim, some good food and a very relaxing evening. I am 4 days in now and starting to get in a good routine. Despite the detour, a perfect day.
Ready to go on day 4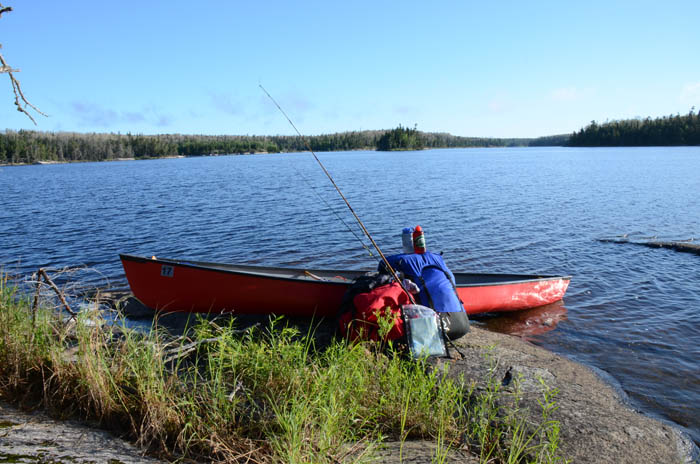 Taking a break and checking in
Nice Pike on Simeon Lake
Hmmm? That is not supposed to be there. Map must be wrong ;-)
Falls into South Simeon Lake
Oops! Gotta be more careful
Simeon Creek, a pretty place
Dunstan Lake Camp
Sunset....Life is Good
Zoom in of the missed portage
Day 4 Route
---
Day 5
A Short Day
6.8 miles, 2 portages, 800 meters
It took me a while to get to sleep but once I did, I slept hard. I am up early though, it is too nice to sleep in. I am in no hurry to get going today as it is a gorgeous morning. The flat rock island site is pretty cool site so I take some time to enjoy it. Once packed up I am on my way. At the end of Dunstan Lake is the 750 meter "Enchanted Portage". It is flat, lots of caribou moss and Pink Ladyslippers lining the trail. A good start to the day. Then into Ugly Lake…not really ugly at all. At the south end you can go west to Wanda Lake or easterly to Royd Lake. I take the easterly route. The creek is narrow and full of hairpin turns. It is swarming with dragonflies. A small falls and short portage and then into a long narrow no name lake. About half way down the lake I find a nice camp site. I decide to layup early and make this a rest day. It looks like it could rain. I am well into the trip now and I take the time to sort through my food and gear and work on organization. In going through my stuff I realize that I forgot my extra camera battery. I had put it in the charger before I left to top it off and then forgot it. I will have to go easy on it for the rest of the trip. I have my iphone and my Sony camcorder can be used as a camera as well and I have a battery backup for them.
I have a big plate of hash browns for lunch, get a good swim in and take an afternoon snooze. I am not sure where the day went. PackIt Gourmet Shepard's Pie (good stuff) and peach cobbler for desert. A quiet evening, a nice fire and a beautiful sunset. It looks like all the rain passed just to the south. Another perfect day in the Caribou.
Morning Meditation Time
The Enchanted Portage
Creek out of Ugly Lake
Hashbrowns...one of my favorite trip meals
Day 5 camp, long no name lake
Day 5 Route
---
Day 6
Rested and Ready
16 miles
6 portages, 2100 meters
A good night sleep but had a rough time getting out of the tent. I somehow tripped climbing out, then in my attempt recover my other foot tripped on the rock holding the vestibule….next thing you know I am doing a barrel roll into the woods. For the most part it was a soft landing but I lay there for a second just to make sure. This would not be my only fall for the day. It is another picture perfect morning, a little fog on the water, blue sky and casting its light on the far shore. Yesterday was a good rest day and I am off early, just as the sun is rising over the trees. I really enjoy the long days. There is at least 18 hours of good daylight. I am finding that I can enjoy the early mornings and late evenings if I get a short afternoon nap. I take some video as I paddle on the mirror like water. In a short time I am at the 800 meter portage into Royd Lake. I had heard this one was challenging and the reports were true. It was uphill, down into a small bog and a few more steep up and downs. The bog had many pitcher plants. They are carnivorous plants attract and consume insects. It would be easy to get absorbed into the difficult portage and miss these rare plants along with all the ladyslippers that lined the path. A reminder that when the going gets tough, stop and look around, you may be surprised at what you see. This lesson can be applied in the real world as well. On my second trip across with the canoe I tried to rest the canoe up against a tree on a steep incline. Bad idea. The canoe came down on top of me as I fell backward down the slope. I landed in some of the softest and thickest caribou moss you could hope for. That was the 2nd fall of the day that could have had a much worse outcome.

Once on Royd I find a camp site to have some lunch and take a break. The sun is strong and the winds are calm. Getting across Royd was an easy paddle. As I approached the portage to Gammon there were some fisherman that had portaged in from the outpost cabin on Gammon. They were surprised to see me. We have a short chat, they were from Iowa and were going to fish for lakers on Royd. They said the walleye fishing on Gammon had been slow. These were the first people I had talked to in almost a week. I planned to camp on Gammon but the two campsites I was looking for on the south side of Gammon were not there. I could back track a couple of miles or go for Rostoul Lake which meant a couple of 500 meter portages. It was still early and I was optimistic the portages would be easy. They weren't! Some steep ups and downs. One where I had to put the canoe down and slide it down the steep drop. But soon I was on Rostoul and found a nice campsite. It had been a long day with the hardest portages of the trip so far. I was tired out but feeling pretty good. I had a good swim and a relaxing evening in front of a fire.
All set to paddle into the morning sun
Paddling on the clouds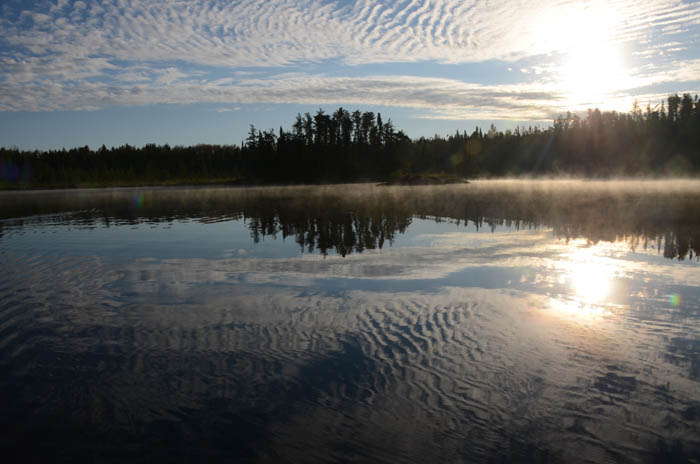 Iris Blooming Everywhere
Pitcher Plants along the portage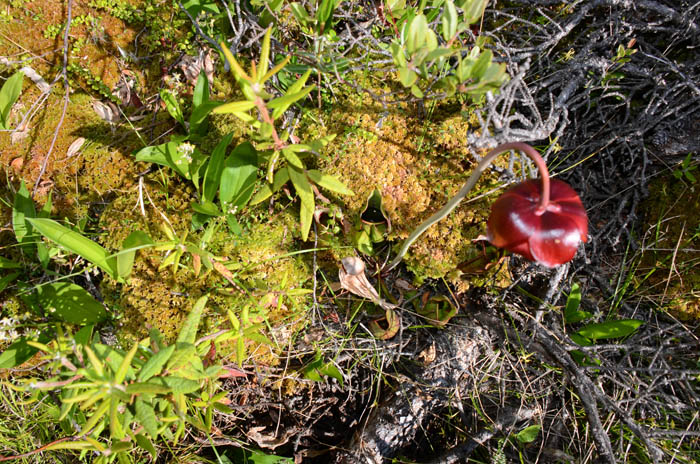 Paddling a calm Royd Lake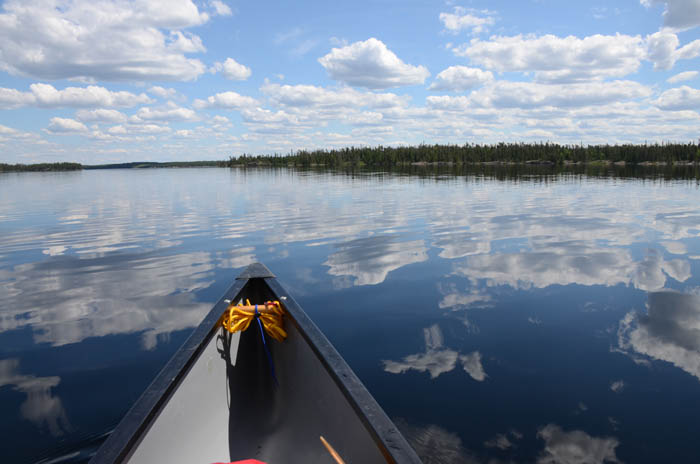 At the campsite on Rostoul Lake
Day 6 Route
---
Day 7
Summer Solstice
1 portage, 525 meters
A late start today as I planned on this being a short easy day. I was on the water at 10:30. It was another beautiful morning. The map says there is a seasonably shallow area between Rostoul and Cyclops Lake. It is shallow but easy to navigate. It is loaded with minnows and a few small northerns getting fat on them. The two portages into Cyclops Lake are easy . The map says there is only 1 camp site on Cyclops and it is on the island that is the eye of the Cyclops. It is a nice campsite. The fire ring had moss growing in it so it had been awhile since anyone had stayed here. I set my tent up on some thick caribou moss back in the jack pines. I set the tarp up to as it looks like some showers are imminent. Once it starts to rain I crawl in the tent for a long nap. This is my rest day after a long day 6. When I wake the sun is out with a light breeze. After an early supper I fish as I paddle across the lake to climb the bluffs on the other side. Fire in recent years had left it open with young jack pines sprouting. No fish but I had a nice hike on the bluffs on the west side of the lake. I played tag with a spruce grouse. I think she was trying to lead me away from her nest. She let me get really close but always just a step ahead of me. I paddle back to camp to watch the sun go down on the longest day of the year.
---
Seasonably Shallow between Rostoul and Cyclops
Damsflies and Dragonflies everywhere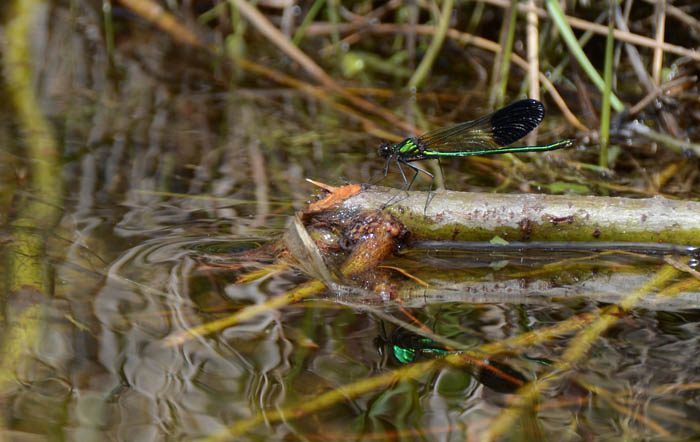 Camp on Cyclops Lake
High ground on west side of Cyclops Lake
Playing hide and seek with me
The Eye of Cyclops
A birds eye view of my campsite
Day 7 Route
---
Day 8
Jigsaw Lake
7 miles, 3 portages 1450 meters

I wake up to a light rain so sleep in a little. Once it stops I am up and on the way. The 575 meter portage out of Cyclops was not an easy one, at least at the start. The steep rocks were slippery to get up on without a load, with a load it was dangerous. I had to drop the canoe and pull it up over the steepest parts. Haven Lake is beautiful Lake, lots of islands, the east side burned in 2009. It looks like a good lake to lay over on and fish walleyes. My plan is to head to Jigsaw Lake and spend some time there. It burned in 2009 as well, part of a very large fire. The Jack Pines were coming back strong. The portages into Gulch and Jigsaw were over the rocks and through the Jack Pines. It was like walking through a Christmas tree farm with some scenic vistas. Despite some uphill hiking I really enjoy these portages. Some shy away for burn areas but I like seeing the regeneration. In another 10 years it should be a very pretty place. Jigsaw Lake is a puzzle of islands. It is a real maze to work your way through it. It had one useable campsite and it is a nice one.
It looks like the cold air is battling the warm air today and there are some tall cumulonimbus clouds brewing. I take advantage of a light shower to get a nap in. When I wake up the sun is out and a nice breeze is blowing. I fish a little from shore and catch a small walleye but I am not able to catch another one. There is lots of good wood so I have a nice fire along with supper and an enjoyable evening. The loons are very vocal and there is a bluebill chasing a hen around in some every acrobatic moves. They fly within feet of me as if I was not there. I am well into the trip now and really able to relax and take it all in....solitude, the sounds, the smells, the sense of wilderness. Memories that will last a lifetime.
The portage between Gulch and Jigsaw
Portaging the rocks
Jacks sprouting everywhere
Jigsaw Lake cliffs
Jigsaw Lake Campsite
Jigsaw Lake Walleye
Evening Campfire, listening to the Loons
Day 8 Route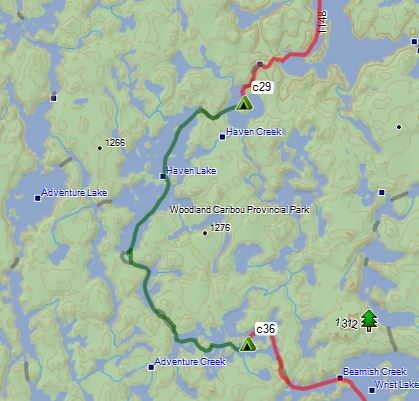 ---
Day 9
Getting wet
10.5 miles, 3 portages 925 meters
At first light there were some sprinkles so I rolled over and went back to sleep. When I woke the sun was shining. I was in no particular hurry to get going so took my time. I packed up and had my usual breakfast of oatmeal. As I navigate through the islands I fish for walleyes. It looks like a shallow lake with lily pads in a lot of areas. I caught one so I know there are more but fishing is slow. My guess is that when the bite is on the fishing is really hot on this lake. The portage out of Jigsaw to Wrist is 850 meters. It is through the small Jack Pines and you need to follow the rock cairns very closely. Despite being long with some uphill stretches it is an enjoyable portage. The next part of the trip through Wrist and Aegean Lake were familiar territory. I made it to an island campsite on Aegean Lake that I spent the night on during 2013 trip. The plan was to have lunch and then find a campsite on the south end of the lake. Just as I sat down to eat a mesquite chicken salad tortilla wrap it started to rain, just a few sprinkles at first. I didn't see it coming so I wasn't ready for it. I figured I may as well finish lunch but it just started raining harder, then some thunder and before I was done with my lunch some pea sized hail. I was already wet so I threw my raincoat over the pack. Oh well. It rained hard but it did not last long. It looked like more on the way so I put up the tarp and took my lunchtime snooze. I was soaked but it was warm out and I had no problem getting in a good nap. When I woke it looked better out so off I went. I found the campsite I was looking for and got set up. I quite evening with a good swim and small fire. I was in the tent early. I drifted off to sleep to the sound of loons.
The beach on Wrist Lake
Narrows between Streak and Aegean
Getting wet on Aegean Lake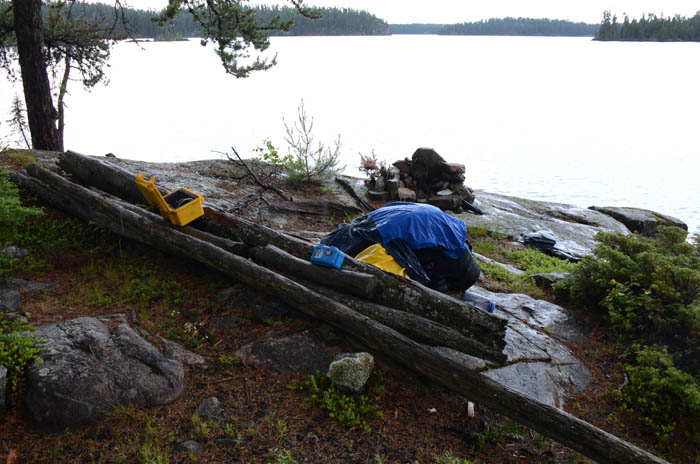 Aegean Lake campsite
Day 9 Route
---
Day 10
Warm and Calm
13 miles, 3 portages, 575 meters
Early to bed, early to rise. I was up before the sun and the morning was still. Fog drifted up from the water, not a cloud in the sky. I got out the camera and took pictures and some video as I watched the sun come up. A good start to the day. Packing up camp was getting easier each day and soon I was on my way. Off to see the cave on Aegean. The water was like glass, it would be that way all day. I soon found the cave and the sun was still low and shining into the cave. I got some good pictures and spent some time checking it out. A beaver had built his lodge inside the cave. Just a little ways away, across the bay was a large white quartzite outcrop that needed to be checked out. I climbed to the top, took some pictures and spent a few quiet moments enjoying the beauty. The pictures tell the story. As I paddled back across Aegean I troll for Lake Trout. In a matter of minutes I had a nice one on. Walleye, smallmouth, northern and now a lake trout. A nice one too. I tried for another one but only caught a northern.
An easy portage into South Aegean. Lots of islands, rocky shores, a young jack pine forest along some tall slopes. Maybe the prettiest lake so far on the trip. It is getting warm out on a windless day and I easily glide the canoe along, taking it all in. A couple more northerns as I troll southward. Soon I turn to the east and start making my way to Talon Lake. Next is a 375 meter portage into a no name lake. This no name lake has some large overhanging cliffs, lots of little bleached rock islands, a really beautiful lake. I stop for some lunch at a small campsite. I finish the last of some good artisan bread and some peanut butter. The food pack is getting much smaller and lighter. I have a hard time finding the portage out of this lake to the Talon River. It is right there but I can't seem to find the path. I realize some small trees had fallen across it and covered it up. I got out the saw and went to work clearing it out without too much effort. A short portage and into the Talon River, a shallow grassy place where moose are sure to be found in the early mornings and evenings. Soon I am on Talon. It is quite warm and I make camp on the big island on the north end of the lake. I am in need of a good swim to cool off. The temp is about 80 but the air is very dry. I get camp set up and go through my evening routine. This is my last night in WCPP and I take lots of time to reflect on the 10 days of the trip so far. I know that I have some unknown portages and maybe some hard going in the next few days as I paddle out to Bird Lake. Starting to think about some real food and cold drink as I fall asleep.
Before the sunrise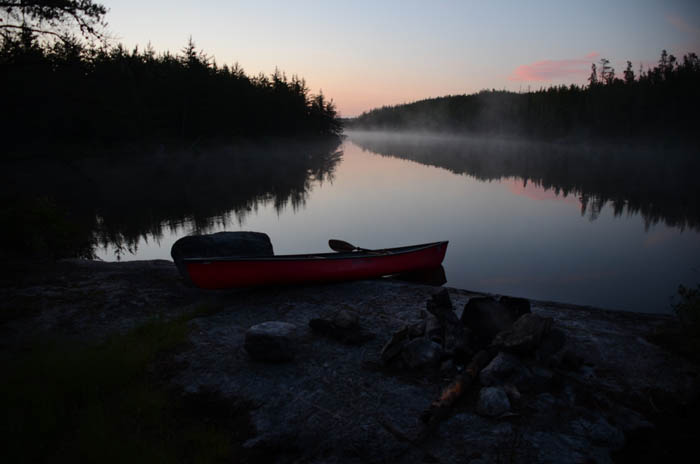 Sunrise panorama shot

Morning Solitude on Aegean Lake
The cave on Aegean Lake
Inside the cave looking out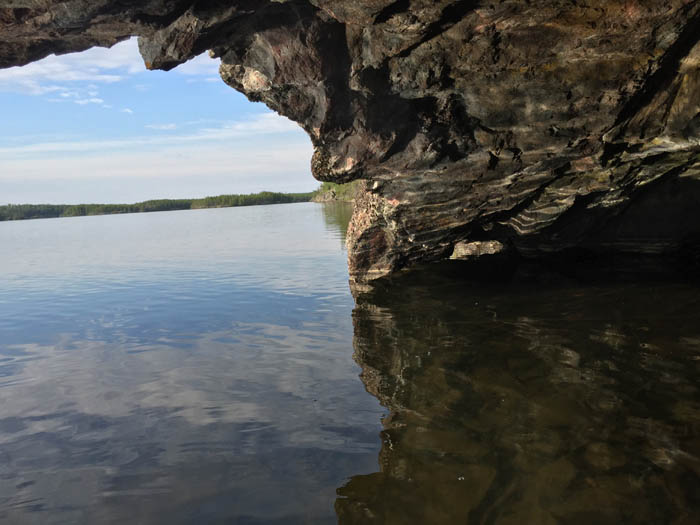 Large quartzite rock across from the cave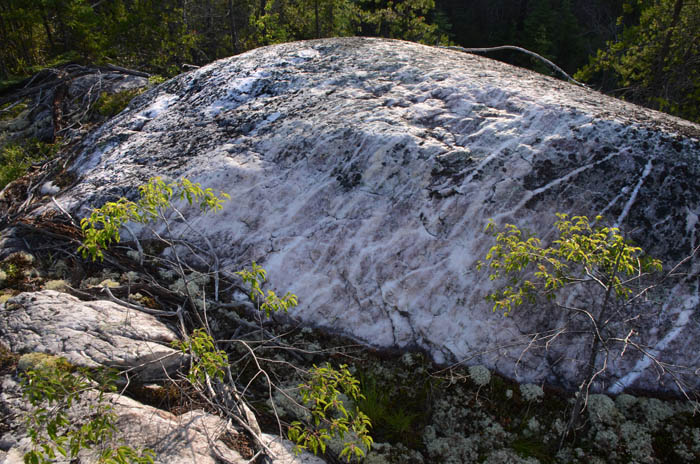 Aegean Lake early morning
Lake Trout and the Clouds
Portage between Aegean and South Aegean
Colorful Cliffs on a no name lake
Talon Lake Campsite
Day 10 Route
---
Day 11
Leaving WCPP
22 Miles, 7 portages, 700 meters
I was on the water early. It was going to be another warm day and Talon Lake was smooth and quiet. It did not take long to make it across the lake. I had no idea what to expect going out the Talon River entry point. I assumed it was not a well-traveled route. The 4 portages were easy and clear, mostly downhill. The Talon River is shallow grassy with a light current. In 11 days I have gone from top to bottom. Some long days and some short days…no layover days. Still no wind or clouds and Eagle Lake is calm. It is the largest lake I have to cross so not having to deal with the wind is nice. I take a break at a campsite across from the Bird River entry point and have some lunch. My water filter is getting hard to pump so I am dipping out of the lake today. I was going to lay up on Eagle Lake but decide to keep going as long as I had good paddling. As I round the corner onto the main lake I met a couple boats from the fly-in outpost on Eagle. They wave and take some pictures of me as they pass by. I must have enhanced their wilderness experience. :-)
It seems like in no time I am across Eagle and into Midway Lake. As you leave Midway you go through a channel into Chase Lake there is an outpost cabin. There are a couple guys there so I stop to talk. They were from the twin cities area so we have a nice chat. They offered me an ice cold diet coke and a salted nut roll. I couldn't refuse. Any cold beverage on a hot day would have been a treat. It had been awhile since I had talked to anyone so this was a nice break. There is a breeze starting to blow so I get going across Chase Lake and into the Bird River. There is a short portage and a boat cache on the other side. It is getting into the afternoon so I start thinking about a place to camp. I come across a cow moose feeding in the river. I am able to paddle up close every time she goes under to eat. I enjoy watching her for awhile. Soon I am at a portage that has a falls on each side. The portage is down the middle of the island. An old trip report I found said this is a nice place to camp. I am able to find the portage but it hasn't been used since the blowdown. It is short, maybe 80 meters. I clear it out but there is not much place to set up a tent. I was planning on doing this set of portages in the morning but as long as the going is easy I decide to keep going. The next portage is only a few hundred meters away. The portage landing is easy to get to on the north side but there is no trail to be found. It is another short one….100 meters or so and I bushwack across it. Not too bad. Another couple hundred meters to the next portage. This is the one I made it to on my 2012 trip but couldn't find my way across. I know there is a campsite on the other side but I find an ok place by the landing. Small but it will do. It has been a long day. I get camp set up and then decide to scout the portage. I have some good Bing aerial photos and my GPS. I am able to bushwhack through without too much difficulty. If I break it up into two pieces it should be relatively easy. I will be able to sleep better knowing what lies ahead in the morning. This was my longest day of the trip, I am pretty tired out but feel good about getting across the big water and knowing tomorrow is going to be an easy day. As I am eating my supper a cow moose walks out in front of me and joins me for supper. A nice way to end the day.
Talon Lake Sunrise
Talon River below from the portage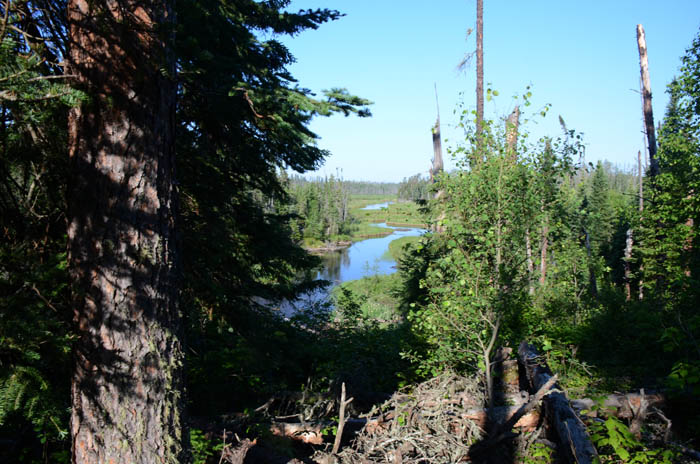 Talon Lake Entry Point Sign
Island Portage on the Bird River
Bird River Moose
Joining me for supper
Day 11 Route
---
Day 12
Conquering the Bird River
3 portages, 200 meters
In 2012 I had tried to paddle this route up to Eagle Lake and beyond. I had made it to this portage and turned around. It was my first big solo, I had too much gear and not enough confidence. Today I would get through this portage and the next couple to Snowshoe Lake. I have a lot more experience and confidence in my abilities after this trip. The portages were really not that hard considering 2 of them were bushwacks.
I am no hurry to get going in the morning. It is a beautiful sunrise. It is a bit different feeling being buried deep in the forest along the Bird River than it is on an open point out on a lake. The portage goes well. There are a couple of different ways you can do this one since it is a bushwhack. There are 4 drops in the river on this section. The landing on the far side was tricky. You need to really watch your footing. The next portage is only a few minutes paddle. It is a chute with a short but steep up and over portage. Watch your footing on this one as well. On the other side of this one there were two bull moose in the river. By the time I got my camera out I didn't get much of a picture. Next is a short rock garden and one more easy portage. I am happy to have these portages behind me. I enjoy the scenic Bird River as I paddle out to Snowshoe and familiar territory.
I take a break at a campsite I used in 2012 before I head out across Snowshoe. Another big lake and a calm day. It makes for an enjoyable paddle. I find a nice campsite at the far end of the lake but it is a reminder that I am close to civilization. Snowshoe is a good fishing lake and is an easy days paddle from the public access on Tulabi Lake. The fire ring is littered with half burnt garbage including a small propane cylinder. The campsite has been well used over the years.

It is early in the day so I fish a little, not much luck, get a long swim in as it is another warm day. I spend my last night reflecting over the last couple weeks. My camera battery is just about dead. As much as I crave a burger and cold beer I know I will miss this place as soon as I leave.
Sunrise on the Bird River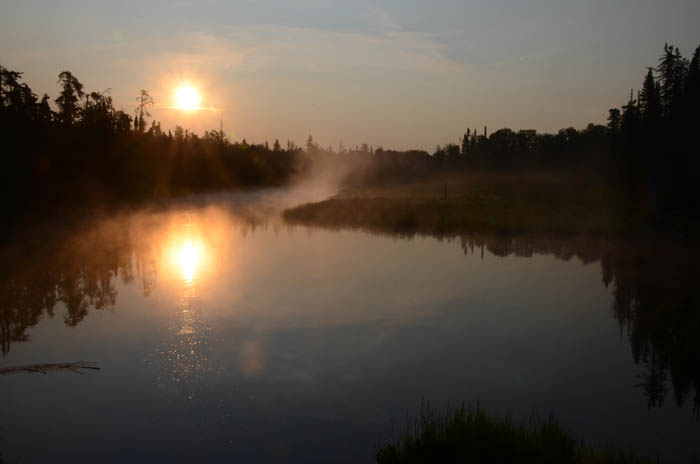 Bird River Bull Moose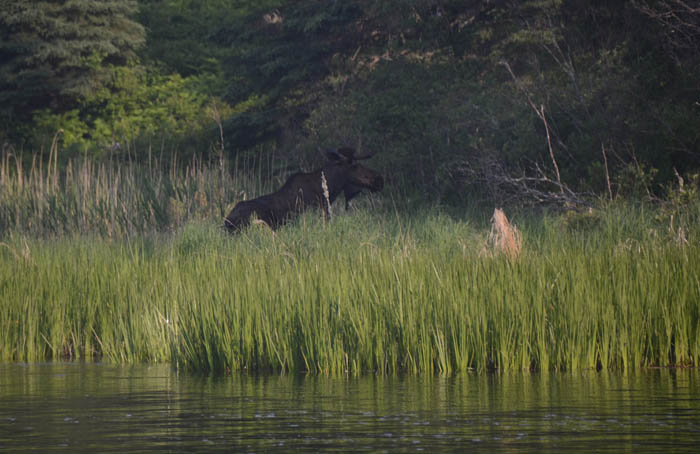 Day 12 Route
---
Day 13
Finish in a Flash and a Boom...
15 miles, 6 portages 400 meters
When I wake up the air is more humid. It has been warm but the air was always very dry. Today feels and looks like rain. I pack up and get going to the sound of distant thunder. After the first portage into McGregor Lake it starts to rain. Light at first, then hard. There is thunder off in the distance. I decide to paddle in the rain as long as the thunder is off in the distance. At times it pours hard but the rain is over by the time I cross McGregor Lake. Despite the heavy downpour there is no wind. The falls out of McGregor are impressive and I take some time to enjoy view. Soon I am on Elbow Lake and another thunder popper is headed my way. I stop at a campsite, prop my canoe up on a fallen log and find a comfy spot underneath. I have my last cliff bar and wait it out but it never happened, it just went around me. I dodge that one. It is about 6 miles across Elbow Lake and down the Bird River to the next portage. As I am almost there I get caught in the rain again. This time a flash and a boom close by but there is no place to hide. I paddle as hard as I can to the portage where I wait it out. There I meet an older gentleman who is going in on a 6 week solo. We talk for awhile as we wait out the rain. He is the first canoe paddler I have seen in 13 days.
A short paddle and one more portage, then a couple more miles to the landing on Tulabi Lake. I get caught in a very hard downpour as I cross Tulabi Lake. There is a thundershower coming right at me. Again, no place to hide. I get my double blade paddle going as fast as I can and sprint the last quarter mile to shore. Within yards of the shore there is a flash-bang just to my right along the shoreline. Less than a second between the flash and the boom. That was way to close but I make it to shore and find shelter under an awning for the park map display.
I had arranged for Jackson Outfitters to pick me up at the access in the afternoon the day after I checked in on my SPOT from Snowshoe Lake. And sure enough they were there waiting. Tyler helped load up my gear while I changed into some dry clothes. It was a 45 minute ride back to Lac Du Bonnet. I quickly got loaded up and stopped by the Glen Howard restaurant for a burger and a beer. Then the 4 hour drive back to my cabin. A Woodland Caribou trip to remember.
Falls out of McGregor Lake
Bird River Moose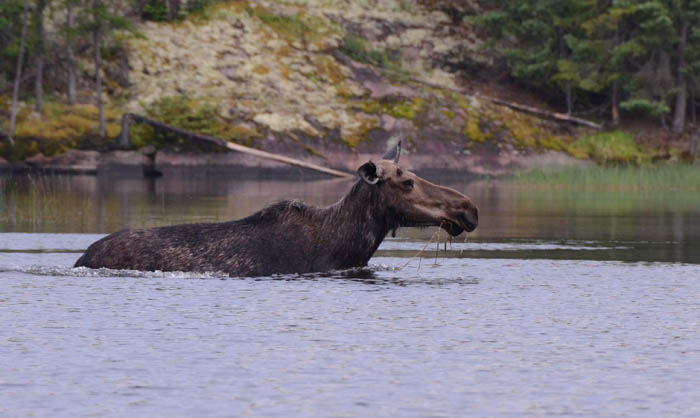 Day 13 Route
---
Trip Summary
I got to spend 13 days paddling some remote and incredibly beautiful country. The trip went off pretty much as planned. The weather was near perfect with the exception of the last day. I had good fishing early in the trip along the Bloodvein River. I got to see places I had stared at in Google Earth for many years. The route was somewhat unique and gave me a lot of confidence. Weather can really make or break a trip. The amount of sun and lack of wind really made this trip great. I saw a boat on Simeon Lake, talked to some guys from Iowa on Royd Lake and saw a few boats from outposts after leaving WCPP on Eagle and Chase Lakes. You get a real sense of wilderness and solitude in WCPP. It will be hard to top this trip but that won't stop me from planning the next one. Here is a link to a slideshow with more pictures. Slideshow
---
A couple of links if you are thinking about planning a trip to WCPP. The park office or Red Lake Outfitters can answer any questions you may have about the park.
WCPP Park Office (807) 727-1329
I used Adventure Air/Jackson Outfitters to fly in from Lac du Bonnet. I would highly recommend them if you are looking to do a similar trip from the west side of WCPP.
I hope you enjoy the virtual trip. Feedback is always welcome. I can be contacted via email at bill@hobbydog.net